THE HOME — In the 1950s, "Leave it to Beaver" was one of the most popular shows on television. The Cleavers represented the ideal American family with their middle-class income, house with the white picket fence, and very specific expectations for each family member's conduct with each other and in general. The thought was that reaching these ideals guaranteed family success and bonds of love and connectedness.
While ideals are not inherently good or bad, the word ideal itself lends to the fact that it is rarely, if ever, actually met. Even families that have the same structure as those depicted in "Leave it to Beaver" do not function seamlessly and have their own share of obstacles and challenges. Here are four families in TV shows or films that have little resemblance to the Cleavers but still fostered healthy and loving atmospheres for everyone in the family.
The Shrek family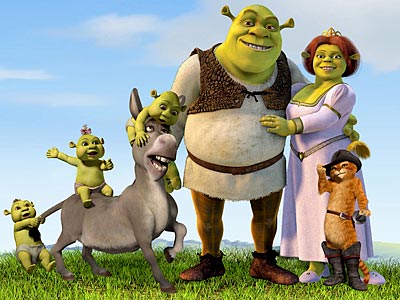 "Shrek" and "Shrek 2" follows the development of the romantic relationship of Shrek and Fiona. The pair's love story is somewhat formulaic in many regards with the kicker being that Shrek is an unabashed ogre and Fiona is an ogre by night and a beautiful human princess by day. Despite their rough exteriors and crudeness, Fiona and Shrek become a terrific example of concern, sacrifice and love for their mate.
In "Shrek 3" and "Shrek 4," the couple begins the transformation of being parents. Shrek in particular seems ill suited to the task. By his own admission, the only example he had of a "father" is an ogre that tried to eat him. Despite his lack of a positive paternal role model, Shrek becomes a caring father and in the fourth installment of the film realizes that his happiness comes from being a family man.
The Kent family
Not all families are developed through procreation. Many families are brought about by other measures, including adoption. In the many film and TV adaptations of the Superman saga, Martha and Johnathan Kent are a couple desirous of children but unable to procreate. The way they become adoptive parents is incredibly unique, however, when their son (literally) falls from the sky into their laps. After their chance encounter with a child that has superhuman powers and is from some far off planet called Krypton, the Kents decide to feed, shelter and nurture the young boy.
Though Clark from a young age is much stronger physically than his parents, he still needs their love and guidance through the obstacles of daily life. He also needs protection from people who would take advantage of his superhuman abilities for their own illicit purposes. Johnathan and Martha provide the emotional support and stability their son needs and help Clark eventually become an unstoppable force for good as Superman.
Whether due to the death of or abandonment by her partner, many fictional families have been depicted where a mother is struggling to raise her children alone. Less commonly depicted are single fathers. In "Dan in Real Life," Dan Burns (played by Steve Carrell) is a family columnist who is raising his three spirited daughters by himself after the death of his wife. For his part, fatherhood is the most important thing to Dan. While his daughters love him and realize he cares deeply for him, they all view him as overprotective.
With this backdrop, Dan meets a beautiful, fascinating woman named Marie Diamond … who happens to be dating his player brother. Throughout the film, Dan has to balance fatherhood, as well as his loyalty to his brother and his deceased wife, with his deep desire to have a romantic relationship with Marie. Finally, with the approval of his daughters and his family, Dan allows himself to fall in love with Marie and begin their new journey as a blended family. Dan, his children, and Marie are good examples of the patience, respect for the past and genuine interest in the well-being of others involved that are necessary to make blended families work.
In some ways, the families involved in "Everybody Loves Raymond" match the "Leave it to Beaver" ideals for American families. The main characters in the series are married (most having children) and living normal middle-class lives. However, anyone who watches the show for one episode knows that this is not the Cleaver family. The Barones are loud, often obnoxious people who argue on a fairly constant basis and thoroughly drive each other crazy.
Despite their often abrasive natures, there still remains a viable loyalty and love for each other. Despite their frequent confrontations, the family members frequently spend time together and come to each other's aid when necessary. This point is punctuated particularly in the final episode of the series, when even Frank (Raymond's wise-cracking, grumpy father) asserts how much he loves his son and his daughter-in-law after Raymond faces a near-death experience. "Everybody Loves Raymond" is a good example of how families with a host of strong personality types can still be cohesive and loving.
Who are your favorite TV or film families?
Dylan Cannon is a regular ok.com and KSL.com contributor. He can be reached via email at dylancannon86@gmail.com.